There is more information available elsewhere–especially in Japanese–about the business reputation of James Yellowlees (ジェームズ・イエロリーズ) and the Canadian Education Alliance (カナダ教育連盟). A few years ago someone successfully sued him for ripping them off. I wonder if they actually got their money back. I didn't.
Aug 9, 2023: I received this message via the contact page. I've heard from many people this has happened to–they pay James up front for tuition and boarding, they show up at the school and there's no record of their matriculation. It leaves deep scars on people who get ripped off like this.
I was a lecturer at a university in Kyushu from 2007-2014. During that time someone in Tokyo introduced Yellowlees as a person who could help some medical students I was teaching go on clinical clerkship trips to the USA. After lots of trouble, one of 3 students involved was able to go. However, that student found nothing prepared for him at the destination as promised and wasn't allowed to even observe at the hospital because he didn't have the proper vaccination and TB tests in advance, something that surely should have been known by the company setting up the clerkship.
My husband and I paid the lawyer's retainer to sue Yellowlees because I felt responsible because I told the student about him. We refrained from going public about what happened to protect the students' anonymity.

I'm no longer in touch with the student but can only pray that he got over the harrowing experience he had on that trip abroad. It left a scar for me too, obviously. Why else would I randomly google his name and find your website now in 2023? It's so sad to be a trusting person and have to learn the hard way that people will do or say anything for money.

After it happened we looked into some of Yellowlees's claims about his work. He claimed to be a lecturer at Keio University, but when we contacted the university we found out he had only been a guest speaker once at some point in the early 2000s and were told there was no record of him ever being "employed" by that university.

I don't wish evil on anyone, but I also don't want anyone else to become a victim of this guy. Thank you for this awareness campaign.
If you see this James Yellowlees, please change your ways. Live out the rest of your life doing good and see what a great feeling that can be.
January 12, 2023: I stopped keeping track of James's whereabouts long ago. Is he still ripping people off? Is he still in Japan? Is he still alive? I have no idea. I worked for him for many years and trusted him. He laid me off without paying me what he owed. Afterwards I found out he ripped off many more people so I put up this website.
December 14, 2019: The number of visitors to this site has spiked in the past few days because James is holding a blockchain seminar in Tokyo next week. I got word that people are using LinkedIn to warn others to steer clear of him.
November 2018: Contrary to what James tells people, this site isn't invalid or outdated. I'm still hearing from people who have been ripped off by him recently. They don't want to go public, so I don't have anything new to post. If anyone wants to share their story, feel free to contact me.
Feb 18, 2015: Wayne McKelvey, principal of Metropolitan Preparatory Academy says James is a "charlatan" and explains why.
Dec 3, 2014: Chigusa Katoku is the international coordinator for Mission College who had a run-in with James.
I worked for James Yellowlees (Global Daigaku, Canadian Education Alliance, Pacifica Consultants aka Pacifica G.K.) from 2004 to 2011. There were months when he couldn't pay my salary, but he always promised he would catch up. I took his word for it.
In March 2011 James laid me off, promising that he would pay me what he owes.
Rich,

As mentioned, the earthquake/tsunami situation is greatly hurting our businesses in the short-term.
We have been thinking about different solutions. I want to try to create a win-win.
One idea is the following:
GD will eliminate your current full time position
You will be able to resign under the company's circumstances which will allow you to collect solid unemployment insurance benefits right away
We will find/create another situation that will help to offset any lost monthly income for that period
GD will make payments once a month for your salary that has not yet been paid: we will agree to a schedule
Once this period is over we will jointly re-evaluate the situation and look to have you rejoin GD or another entity on a full time or full time contract situation.
I think this will help us through this period and will ensure you will have stable income.
What do you think?

Thanks,
James
On May 30, 2011 I sent a request through the Mita Labor Standards Inspection office (三田労働基準監督署) to James Yellowlees for payment of unpaid wages. (My home address and bank information are redacted.)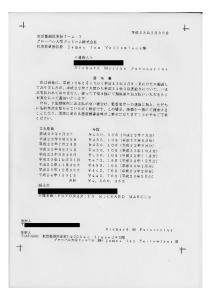 This is the document I received (via the Labor Standards Inspection Office) from James Yellowlees promising that he would pay in monthly installments starting in September 2011.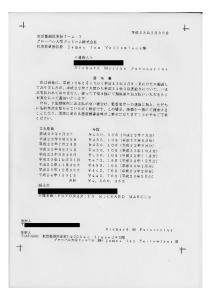 On October 20, 2011, I took him to court. This is the notification dated Oct. 12.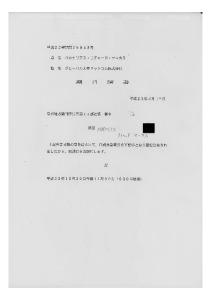 In March/April of 2013, I hired a lawyer to have the Tokyo District Court seize James's assets at his office.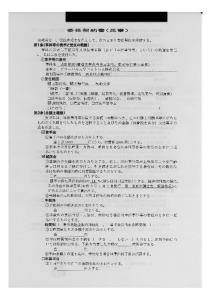 As of May 2019, this is what James paid and what he still owes me. The payments James made starting July 2013 were after I went public on LinkedIn because nothing else worked. The two payments James made in April and May 2014 were after I went public on LinkedIn again.
| | | |
| --- | --- | --- |
| Date | Payment | Outstanding |
| 2011-4-1 | | ¥4,060,352 |
| 2011-5-10 | ¥450108 | ¥3,610,244 |
| 2011-6-3 | ¥450108 | ¥3,160,136 |
| 2011-7-1 | ¥0 | |
| 2011-8-1 | ¥0 | |
| 2011-9-1 | ¥0 | |
| 2011-10-7 | ¥443768 | ¥2,716,368 |
| 2011-10-31 | ¥457707 | ¥2,258,661 |
| 2011-11-1 | ¥0 | |
| 2011-12-1 | ¥457707 | ¥1,800,954 |
| 2012-1-12 | ¥457707 | ¥1,343,247 |
| 2012-2-1 | ¥0 | |
| 2012-3-1 | ¥0 | |
| 2012-4-1 | ¥0 | |
| 2012-5-1 | ¥0 | |
| 2012-6-1 | ¥0 | |
| 2012-7-1 | ¥0 | |
| 2012-8-1 | ¥0 | |
| 2012-9-1 | ¥0 | |
| 2012-10-1 | ¥0 | |
| 2012-11-1 | ¥0 | |
| 2012-12-1 | ¥0 | |
| 2013-1-1 | ¥0 | |
| 2013-2-1 | ¥0 | |
| 2013-3-1 | ¥0 | |
| 2013-4-1 | ¥0 | |
| 2013-5-1 | ¥0 | |
| 2013-6-1 | ¥0 | |
| 2013-7-1 | ¥350000 | ¥993,247 |
| 2013-8-2 | ¥50000 | ¥943,247 |
| 2013-8-9 | ¥50000 | ¥893,247 |
| 2013-9-2 | ¥50000 | ¥843,247 |
| 2013-9-10 | ¥50000 | ¥793,247 |
| 2013-10-2 | ¥50000 | ¥743,247 |
| 2013-11-1 | ¥0 | |
| 2013-12-1 | ¥0 | |
| 2013-1-1 | ¥0 | |
| 2013-2-1 | ¥0 | |
| 2013-3-1 | ¥0 | |
| 2014-4-9 | ¥50000 | ¥693,247 |
| 2014-5-30 | ¥50000 | ¥643,247 |
| 2014-6-1 | ¥0 | |
| 2014-7-1 | ¥0 | |
| 2014-8-1 | ¥0 | |
| 2014-9-1 | ¥0 | |
| 2014-10-1 | ¥0 | |
| 2014-11-1 | ¥0 | |
| 2014-12-1 | ¥0 | |
| 2015-2022 | ¥0 | |